Debut releases have a way of setting a template that an up-and-coming artist puts up to display their style and attract an audience. In hopes of being rather eminent in the scene and building a core fanbase, artists often make an effort to showcase their best. Released on the 29th of September, Bandook, an Ahmedabad-based multifaceted artist, released his debut project 'Trainspotting'. Consisting of 7 tracks, Trainspotting presents a unique blend of R&B and Trap as it runs for 18 minutes.
Bandook was prevalent in the scene before this project, however, he would mostly make his appearances through guest features and collaborations. Trainspotting, being the first project the 23-year-old has curated, portrays his emotional experiences with substance abuse and complicated relationships. The project features introspective themes, it showcases his inner conflicts as he narrates his experiences and demonstrates his emotions. One might find the sentimental theme of the project as something that is quite overrated and common, but Bandook's efforts in expressing himself and his thoughts through well-crafted verses backed by catchy hooks that attract a listener's attention are worth praising.
Completely produced by Blaster Beats, Trainspotting features variations in the trap genre and interesting fusions with different sounds. It is honestly quite admirable that Blaster Beats, having worked with Bandook only once in the past wherein he was a feature, can make the perfect beats and set the right tone for him to take over. The project features Dee-C and Young Mak, Bandook's fellow artists who have previously worked together on numerous tracks coming out of the city.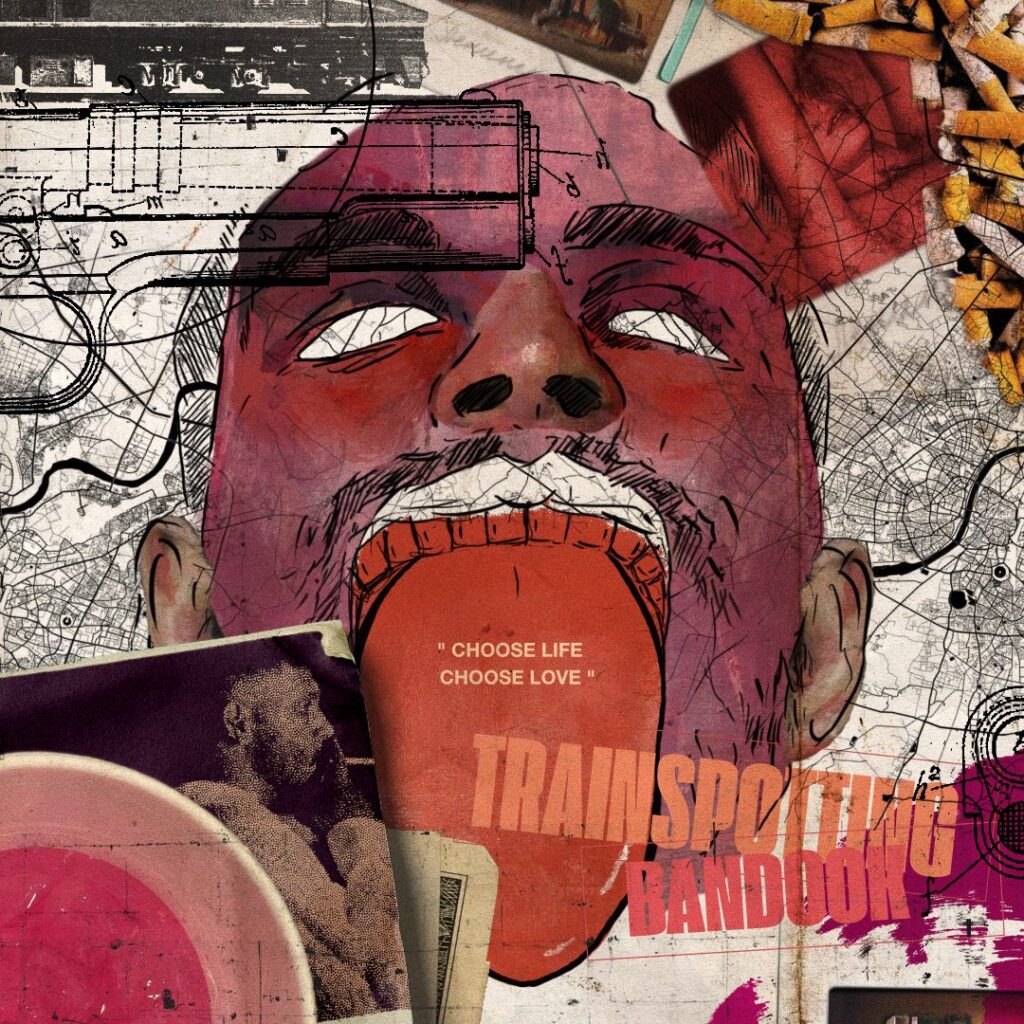 The title and cover art of the project are inspired by the Scotland based 1996 film called 'Trainspotting'. The dark comedy talks about a man's struggles with getting rid of drugs. The cover art shows Bandook in the center, with the map of Ahmedabad behind him, he relates himself to the main character of the film as his city, Edinburgh, played a major role in the character's attempts too. Distributed by Dhanji's Thaltej Publishing Company, Trainspotting presents the caliber that Ahmedabad's very own possess, towards curating thematic projects while introducing fusions and experimental sounds.