2023 has seen a lot of experimentation and mixing of genres that at the first glance look so unbelievingly different from each other. Setting off on a similar quest is Vidhya Gopal, an architect and musician from Mumbai. Even though she's classically trained in Hindustani Classical music, she holds a special love for poetry and ghazals, which is reflected in the music she puts out. Having already garnered a number of listeners for her 2 original music projects 'The Betel Lead' and 'Chaturanga,' Vidhya also holds workshops 'Journey of a song.'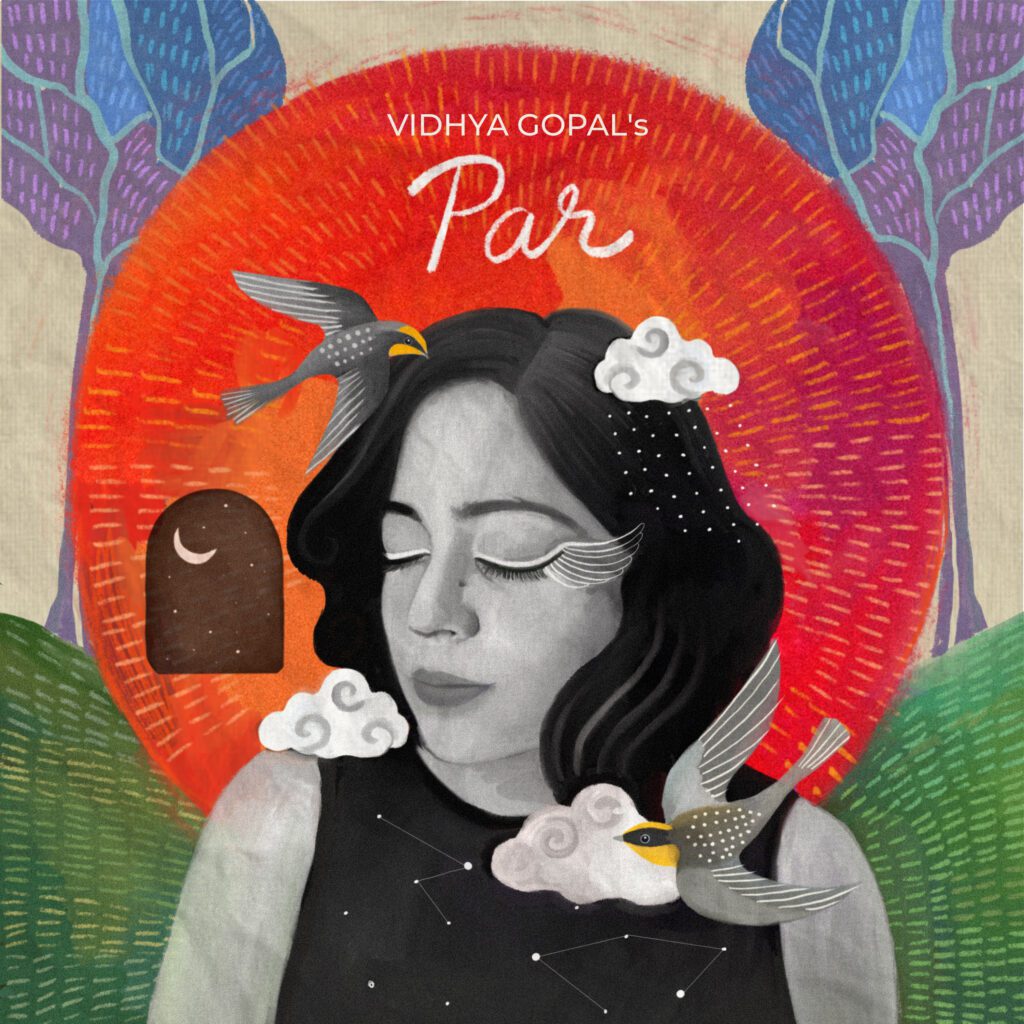 'Par' is a Hindi word that has more than one meaning. To the artist, 'Par,' which also happens to be the name of her debut EP was a journey that touched the realm of freedom as well as a new flight with wings. This fantastic EP combines the world of semi-classical, folk, and qawwali elements with contemporary production elements. It is also well-seasoned with lo-fi and jazzy soundscapes. The four-tracked EP provides a sonic experience like no other with Vidhya's distinctive voice, powerful storytelling, and a fun twist on traditional poetry.
As you begin listening to the EP, you immediately begin to appreciate the well-crafted melodies and the flawless vocals. 'Jharokha,' which presents a ghazal with lo-fi elements, talks about separation and a loved one from the past. However, unlike most popular music, Jharokha's excellent songwriting by Alok Ranjan Srivastava takes inspiration from ghazals. It celebrates the memory of a beautiful time in a beautiful relationship. With dreamy synths and chill beats, which is very characteristic of lo-fi music, the ghazal is deftly interwoven with the beautiful sitar melody adding a nice layer to the feel of the song.
While the whole album comes together as one big, beautiful story, it is also different enough to appreciate all the tiny nuances. It sees Sufi music's effortless blending with multiple genres like jazz, as seen in the second song of the EP 'Na Bol.' With a beautiful intro from the cello and violin with Vidhya's scintillating voice, this is a fun little track that make use of the commonly seen motif in semi-classical and folk forms of North Indian music. The song is about a girl asking her bird papaya to stop with its constant 'pi pi' call as it reminds her of her beloved or piya. Alok and Vidhya came together to write this song as an ode to this motif where nature and humans are seen as friends who communicate with each other. It is a song that talks about separation and distance from the beloved in a playful manner. 'Na Bol,' yet again, sees the words enjoying the pain and the yearning. It also shows off Vidhya's ability to express through her voice and voice alone.
'Kaise Bolu' is an acoustic/ballad-like song that celebrates the many interpretations of Hindustani Classical music. Vidhya has taken something so poetic and so obviously Indian and represented in what can be called as a marvellous, soulful track. The whole song carries a sort of a blissful silence, perhaps to mirror the unseen/unheard strenuous task of not being able to communicate the pain with a partner, all hidden behind a smile. This is the first personal song by Vidhya layered with Ramil Ganjoo's simple and clean production.
Closing off by what could perhaps be the most classical, Sufi piece in the EP is 'Kaaga.' Celebrating a love beyond the realm of the physical world, 'Kaaga' is a qawwali track infused with elements of spirituality and encourages the listener to explore more than the obvious. The massive orchestral production by Siddharth Pandit has tanpura running throughout in the background with the wonderful chorus and the tabla. It is a symphony of many elements with the artist feeling every note and word of what she sings.
'Par,' therefore is an EP that celebrates the timelessness of Sufi music while also appreciating the beautiful subtleties of modern-day music.